Filter by Publication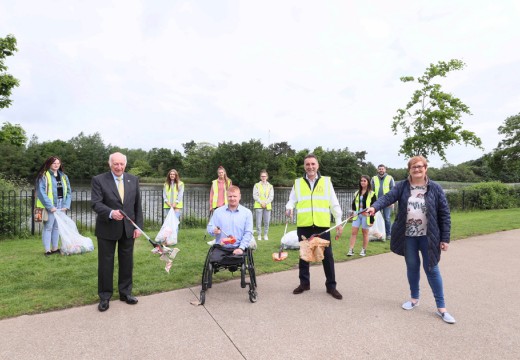 (L-R) Robin Newton MLA, Andy Allen MLA, McDonald's Franchisee Paul McDermott and Councillor Sonia Copeland are pictured with crew members from the McDonald's Connswater restaurant at the recent litter clean-up in Victoria Park.
A new litter campaign by McDonald's in Northern Ireland – aimed at tackling litter in parks, on paths and along roadsides in towns across the province – has been welcomed by East Belfast MLAs Andy Allen and Robin Newton.
The '30 Parks in 30 Days' campaign will see McDonald's employees undertake 30 litter clean-ups in parks and nature areas across Northern Ireland throughout the 30 days of June – including Victoria Park and Moat Park in East Belfast. Led by the seven local franchisees across McDonald's estate of 33 restaurants in NI, the clean-up events will be supported by local councils, elected representatives, schools and volunteer groups.
A recent litter clean-up at Victoria Park, led by the McDonald's restaurant at Connswater, was attended by Andy Allen MLA. He said: "I would like to thank Paul McDermott and the McDonald's team for undertaking this campaign. It was great to see such a commitment to dealing with the growing issue of littering across Northern Ireland.
"Addressing environmental issues is everybody's responsibility and that can start with how we handle our litter. I would encourage everyone to bin their litter and when that is not possible take it home with you."
Also in attendance was Robin Newton MLA, who said:  "It's fantastic to see McDonald's committing to clean up our parks here in East Belfast and indeed across Northern Ireland.
"The '30 Parks in 30 Days' initiative will not only tackle the immediate problem with discarded rubbish in our public areas, but will go a long way in raising awareness to environmental responsibility at a local level. Keep up the good work!" 
The launch of the '30 Parks in 30 Days' initiative comes following McDonald's recent 'Talking Rubbish' campaign in Northern Ireland with popular social media and entertainment social publisher LADbible Ireland.
Building on the success of McDonald's #GetInTheBin campaign, the digital campaign features videos of items of 'talking rubbish' discarded at iconic locations across Northern Ireland. Whilst intended to be light-hearted and engaging, the campaign carries a serious message about the detrimental impact litter is having on the world around us.  
Clients