Filter by Publication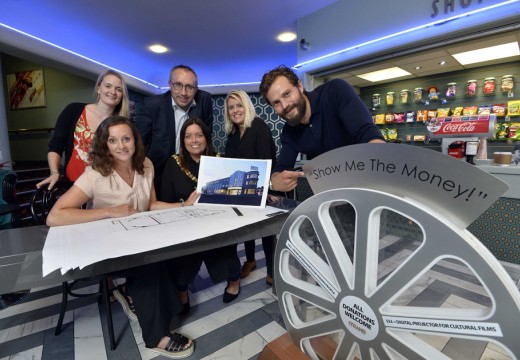 Cllr Sharon Skillen, Strand CEO Mimi Turtle, Cllr George Dorrian, Lord Mayor Deirdre Hargey, Gilly Campbellfrom Arts Council NI and Strand Champion Jamie Dornan
Jamie Dornan popped into his childhood cinema, now Strand Arts Centre, to show his support for the venue's urgently needed refurbishment.
The 83-year-old building is physically deteriorating, has limited disabled access, and inadequate facilities to meet the demand for its activities.  Exciting plans have been developed by architects Hall Black Douglas which will provide East Belfast with a dedicated arts venue, with arts and community facilities to match those available across the rest of the city.  The work will also preserve the building and highlight its distinctive art deco style.
Belfast City Council has allocated £1.8m towards the project from its Belfast Investment Fund. The Strand is also looking to the Department for Communities and various trusts and foundations to support this landmark project, which marries heritage, arts, creative skills and community development. 
Almost 60,000 people currently enjoy the Strand's busy programme of live theatre and music, workshops, classes and film screenings. The Strand hosted 25 festivals last year and welcomed 90 local community groups, schools, charities and business to enjoy cultural activity.
Jamie Dornan said: "We are so fortunate to still have this jewel in East Belfast. It is such an iconic building and has a special place in my heart. I have fond memories of coming here as a child and I'm delighted to see it has evolved to provide even more. 
"It is vital to have somewhere like this that encourages people to engage in all types of arts and culture, especially in the East. There is so much creativity and skill here, and we must do everything to encourage and develop that, as well as allowing people to continue to enjoy theatre, music, and cinema throughout their lives."
Lord Mayor Councillor Deirdre Hargey said:  "We're delighted to be investing £1.8m in the regeneration of this much loved, iconic building and venue. Our funding is part of the £28.2 million Belfast Investment Programme to develop or regenerate facilities citywide for people who live in, invest in or visit Belfast – and we're encouraging private and public sector partners to co-invest.  It's so important that we cherish, celebrate, use and enjoy The Strand, as NI's last remaining art deco cinema. Our investment will help to make the arts centre more accessible, create flexible spaces for live arts performances, cinema, educational and skills development, heritage tours and a café bar area. I'm hoping that many more children and young people will be inspired to follow in Jamie Dornan's footsteps at drama and creative classes here – and that we'll be watching lots more local faces like his on the silver screen in years to come."
Mimi Turtle, Chief Executive of Strand Arts Centre, said:  "The Strand has enjoyed tremendous support from the people of East Belfast and beyond since we opened our doors. The not-for-profit charity took over in 2013 with the aim of securing both the venue's short-term survival by adding arts activities to its cinema programme, and its long-term survival through refurbishment of the building. 
"We've demonstrated an overwhelming appetite in the area for more live entertainment and community engagement for all ages, from our Saturday Minors Club for families to Silver Screenings for older audiences, proudly supported by Specsavers Connswater. All of this, however, has been delivered in a building that is clearlyno longer fit for purpose.
"The Strand is full of character and we want to preserve its heritage. But it urgently needs renovated and in doing so we can provide so much more for our audiences and the local community."
Strand Arts Centre is encouraging its audiences, past and present, to share their memories and future aspirations for the building.
"I know there are many people who have fond memories of the Strand," continued Mimi. "Many went through the life cycle of attending the Minors Club as children, progressing to courting in the back row and subsequently bringing their own children, and sometimes grandchildren too! And let's not forget the dozens of projectionists, usherettes and concierges over the years."
You can share your Strand story at www.strandartscentre.com or on social media. 
Clients