Filter by Publication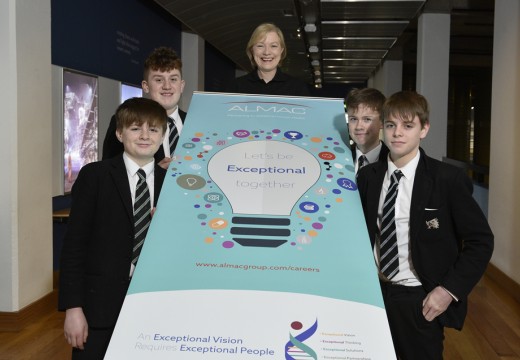 Campbell College pupils Flynn Longstaff, Harry Boal, Ryan Carson and Jeremy McMullan with Dr Frances Weldon, STEM Outreach Manager at Almac
Following the recent launch of W5's new interactive MED-Lab, in association with Craigavon based Almac Group, year 10 students from post primary schools across Northern Ireland were invited to attend a hands-on Science, Technology, Engineering and Maths (STEM) careers event run in partnership with Almac and the STEM Ambassadors Programme.
The event allowed 400 young people, including those from Campbell College Belfast, to gain an insight into the pharmaceutical industry. Pupils from across Northern Ireland were shown the breadth of careers that STEM subjects support through presentations and speed networking opportunities with STEM Ambassadors from both Almac and QUB.
Dr Frances Weldon, STEM Outreach Manager Almac, said, "Almac is dedicated to sharing its passion about advancing knowledge and interest in STEM subjects to as wide an audience as possible.  We want to show young people, in particular, not only the many pathways into a career in Health and Life sciences but also how varied and exciting that career can be.  By enabling the students to meet and hear from our employees in a fun and informal way we hope to stimulate the next generation of budding scientists, engineers, mathematicians and technologists."
MED-Lab aims to enable STEM knowledge and understanding and among W5 visitors of all ages through interactive learning.  The only exhibition of its kind in Ireland MED-Lab gives visitors the ability to explore our bodies and enables them to get hands-on with some intriguing interactive exhibits, learning how scientists at Almac discover and develop medicines and diagnostics tests for patients globally.
Clients