Filter by Publication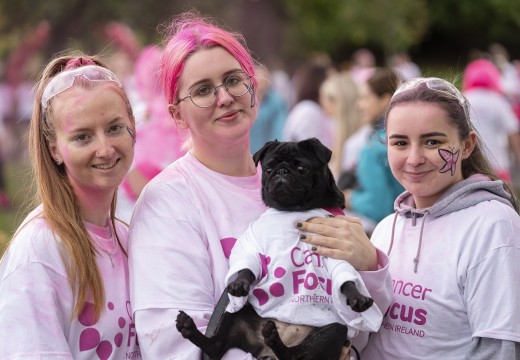 More than 300 eager runners flew like the wind – or trotted along at an easy pace - at this year's Cancer Focus Northern Ireland 5k Pink Run and were dusted in pink powder to mark breast cancer awareness month.
The family-friendly event, now in its sixth year, took place at Ormeau Park in Belfast in glorious autumn weather at the end of October. All money raised goes towards helping local breast cancer patients here in Northern Ireland.
Kathryn Holland, Challenge Events Manager at Cancer Focus NI, said: "One in ten women in Northern Ireland are diagnosed with breast cancer and we know that there is a huge need for more support among younger women who have breast cancer.
"With the money raised from the Pink Run, we plan to facilitate a unique new support service that will give young women a chance to speak to experts on a wide range of topics such as infertility and sexual relationships, and to meet others in a similar situation.
"Huge thanks to everyone who turned up on the day and who made a donation of any kind.  Even the smallest donation makes a real difference to the lives of local people living with a breast cancer diagnosis. Thank you all."
To see more photos from the event go to Cancer Focus NI's Facebook page.
If you have any concerns about cancer, call the Cancer Focus NI free support information and advice NurseLine and speak to a specialist cancer nurse on 0800 783 3339 (open Mon, Wed, Fri, 9am – 1pm).
Clients