Filter by Publication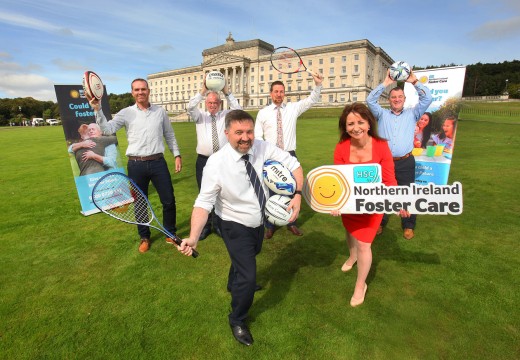 Health Minister Robin Swann pictured with Kerrylee Weatherall, Co-Director lead for HSC NI Foster Care; Ciaran Kearney, Executive Manager of NI Sports Forum; Ulster GAA CEO and Provincial Secretary Brian McAvoy; Patrick Nelson, Chief Executive of the Irish Football Association and Jonny Petrie, Chief Executive of Ulster Rugby
Stormont endorses 'Foster for Your Community' partnership between Key Sports Organisations and HSC NI Foster Care
HSC Northern Ireland (NI) Foster Care have teamed up with key Sporting Organisations in Northern Ireland to encourage more people to 'foster for your community'.
Health Minister, Robin Swann came together at Stormont with Chief Executives of Ulster GAA, Irish Football Association, Ulster Rugby and NI Sports Forum to endorse this new partnership and officially launch the relationship between HSC NI Foster Care and Sport.
These Sports Organisations share common interests with HSC NI Foster Care in that they seek to promote the wellbeing and development of our youth and optimise their potential and life opportunities. The importance of families, a sense of community spirit, and team work also feature heavily in their ethos.
There are currently over 2,800 children and young people living in foster care in Northern Ireland. With an increase in the number of children and young people requiring foster care year on year and a downturn in people coming forward to foster, HSC NI Foster Care urgently need more foster carers.
Health Minister Robin Swann said: "My sincere thanks to our foster carers for the selfless role they play, they are to be commended for the incredible work that they do and this year has been extremely challenging. The pandemic has meant that foster carers have coped with the increased levels of anxiety and pressure, keeping children occupied, managing home schooling and generally supporting children and young people. 
I welcome the added support from the key Sporting Organisations championing the recruitment for more foster carers in Northern Ireland to care and support our children and young people."
Foster care can range from short term support to longer term care so there are different ways you can help depending on your lifestyle and family circumstances.
HSC NI Foster Care welcome enquiries from all walks of life regardless of marital or employment status, home ownership status, or whether you have children of your own. As a HSC foster carer you are never on your own. We are here every step of the way through the process. We will provide you with a comprehensive training programme to help you in your role and provide you with fostering allowances, 24-hour social work support and much more.
To find out how you could give a child a brighter future please call 0800 0720 137 or visit adoptionandfostercare.hsnci.net    Follow us on Facebook and Twitter
Clients