Filter by Publication
East Belfast's Action for Children Win at the Northern Ireland Equality and Diversity Awards 2019
June 2019 - The East Side Advertiser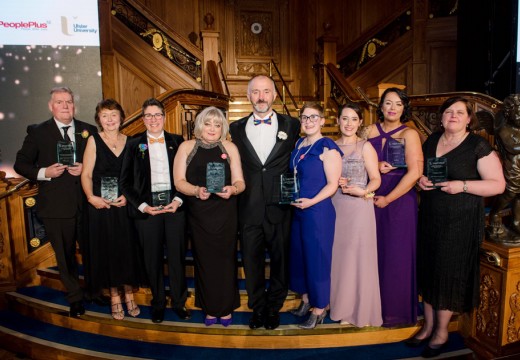 Pictured are the winners of this year's Northern Ireland Equality and Diversity Awards 2019 (l-r)  Harry Maguire from Community Restorative Justice Ireland, Newry/Armagh; Maria Bradley from Gilbert Ash; Sally Bridge from Queen's University Belfast; Dawn Shaw from Action for Children; Barry Phillips, Chair of Legal Island, organisers of the awards; Catherine McGinnity from Sensata; Helena Kelly from Sensata; Adriana Morvaiova from Sensata; Aisling Curran from Belfast Social Health & Care Trust
The winners of the Northern Ireland Equality and Diversity Awards 2019 were recently announced at a prestigious ceremony in Titanic Belfast.
The awards, which are in their third year, provide companies with an opportunity to showcase their commitment to advocating equality and diversity in their organisations.  
Organised by Legal Island, an Antrim-based workplace compliance company which helps HR professionals understand employment law; the awards are sponsored by Grafton Recruitment and Jones Cassidy Brett solicitors, and supported by Diversity NI.
The competition was open to private sector employers, charities, non-profit organisations and public sector bodies, honouring their work with regards to the equality and diversity of their workplace. Winners included Sensata, Gilbert-Ash, Queen's University Belfast, Catherine McGinnity, Belfast health & Social Care Trust and Community Restorative Justice Ireland, Newry/Armagh. 
East Belfast-based charity Action for Children was awarded the accolade of 'Best Employer for Equality & Diversity in Northern Ireland – Small Organisation' whilst Pinsent Masons LLP was highly commended for their work in the same field.
Speaking at the awards event Barry Phillips, Chair of Legal Island, organisers of the awards, said: "I would like to congratulate all of the organisations and individuals who won or who were highly commended in the eight award categories. The Northern Ireland Equality and Diversity Awards 2019 recognise the really good work that companies across Northern Ireland are doing in the important area of diversity, equality and inclusion.
"The awards provide an opportunity for sharing best practice and acknowledging the efforts of staff that are working consistently to further organisational objectives in this area."
Mr Phillips continues: "These individuals and organisations view equality and diversity as much more than a legal tick box exercise. They value diversity and recognise the benefits it brings.  By driving diversity in the workplace, they are helping to drive it in the community outside too. This can only be good for Northern Ireland."
Award sponsor, Tina McKenzie, CEO of Grafton Recruitment Ireland, encourages employers to continue to support equality and diversity, stating that, "Northern Ireland is becoming more and more diverse every day, so employers that prioritise celebrating this diversity are the ultimate equalisers, helping people from all walks of life build good relations. 
"The award winners represent the best of Northern Ireland's employers, promoting and supporting their staff, creating welcoming and diverse work environments, and helping build a work force that's truly reflective of the diversity in Northern Ireland. Grafton Recruitment is proud to celebrate their achievements in recruiting, training and developing a diverse workforce built for the future."
Clients