Filter by Publication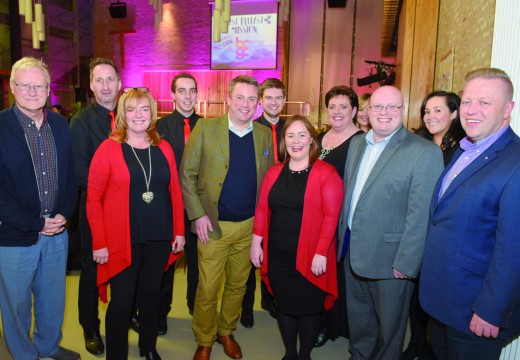 Back Row, L-R: The Revd. Andrew Boucher (Methodist Minister at East Belfast Mission), Marcus Campbell (BCGC Choir Member), Nathan Donnell (BCGC Choir Member), Daniel Diffin (BCGC Choir Member), Marie Lacey (Director of Belfast Community Gospel Choir), Paula Hamilton (BCGC Choir Member) and Anna Callan (BCGC Choir Member).
Front Row, L-R: Kathryn Willis (BCGC Choir Member), Gary Robb (Skainos Centre & Development Manager), Joanne McClelland (BCGC Choir Member), The Revd. Robin Waugh (East Belfast Mission Superintendent) and Andrew Irvine (Chief Executive Officer at East Belfast Mission).
With help from Belfast Community Gospel Choir at its recent concert
This Homelessness Awareness Week (25th November – 2nd December), East Belfast Mission (EBM) is reflecting on the success of its recent fundraising concert with Belfast Community Gospel Choir (BCGC).
Hosted at the Skainos Centre on the Newtownards Road, the home of East Belfast Mission, the performance featured over 50 singers from Northern Ireland's first and only multicultural gospel choir – with audience members encouraged to take part throughout the evening.
Chief Executive Officer of EBM, Andrew Irvine, said:
"BCGC brought a lot of joy to the Mission through their performance. It was heart-warming to see young and old alike getting involved – and I would like to say a special thank-you to Marie and the singers for their hard work and dedication both ahead and during the concert.
"At EBM, we aim to lift people in need out of homelessness or unemployment through our wide range of support services, which extend far beyond a safe place to sleep for the night. As we mark Homelessness Awareness Week, it seems an apt time to reflect on the importance of the work of our Hosford Homelessness Service, which will be supported by concert ticket sales.
"For over 20 years, the Hosford team have helped service users to develop social networks, improve their confidence and self-esteem through new skills, and increase their independence and ability to maintain a home. This would not be possible without support from The House Executive and the local community."
EBM, which is part of the Methodist Church, also funds its work though a number of social economy businesses. From 12 Restore charity shops, the Refresh Café, and Bright Sparks day care nursery to East Belfast Social Enterprise.
Of the evening, Director of BCGC, Marie Lacey said:
"As I grew up on the Newtownards Road, the performance at the Skainos Centre was very close to my heart. The team at East Belfast Mission carry out life-saving work in our community – and it was an honour to be able to support the charity by bringing the message of love, joy and peace through our music."
To find out more about the work of East Belfast Mission, including the Hosford Homelessness Service, visit http://www.ebm.org.uk/ or call into the Skainos Centre (213 Newtownards Road, Belfast) to speak to a member of the team.  
Clients