Filter by Publication
ASPIRING PERFORMING ARTISTS join Cinemagic's 'DEVISING Musical Theatre' Residential Camp
April 2018 - The East Side Advertiser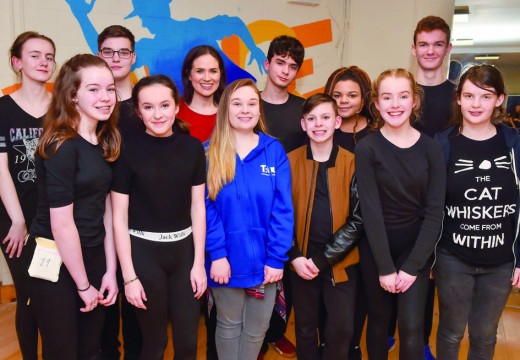 Shauna Shivers, international executive, Cinemagic is pictured with (back row) Natasha Reid, Jack Thompson, Shane McAlister, Natalya Ricketts, Nathan Adams and (front row) Ellie Montgomery, Ava Small, Isabella Grimsley, Ben Scourfield, Annie Heavern and Niamh Lawson from East Belfast.
Forty aspiring performing artists, aged from 11 to 18 years old and from across Northern Ireland, recently participated in Cinemagic's 'Devising Musical Theatre' residential camp in Crescent Arts Centre, Belfast.
The three-day camp focused on developing new skills and getting to know each other through workshops with industry professionals. Workshop topics included good relations, drama, devising, acting, singing and dancing.
The young people, who all had varying levels of experience in performing arts, also took part in rehearsals with a public performance for friends and family at Belvoir Players Studio, Belfast. Cinemagic filmmakers filmed the camp and behind-the-scenes footage documenting the journey will be given to the young people.
Cinemagic is a multi-award winning festival that embraces the magic of film and television to educate, motivate and inspire young people.
Established in 1989, Cinemagic has developed a worldwide reputation for excellence in children's programming and now engages with 40,000 young people annually in Belfast, Dublin, London, New York and Los Angeles.
Cinemagic caters for all young people aged under 25 with all levels of interest in film, to watch, learn and enjoy, or to find out more about a career in the industry.
Cinemagic strongly believes that the medium of film is a vital tool in personal and social development, stimulating discussion among young people about the world around them.
Clients