Filter by Publication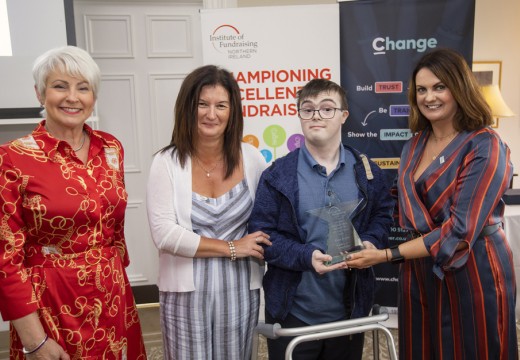 Pamela Ballantine TV Presenter, Rosalind Cole, Age NI, Ryan Bogue, Nadine Campbell Chair IoF and Head of Fundraising Age NI
24 year old Ryan Bogues, from Crossgar, has been awarded Young Fundraising Volunteer of the Year at this year's Institute of Fundraising Awards.
The Awards, which took place on 6th June 2019, celebrate the teams, individuals and organisations that raise millions of pounds for good causes across Northern Ireland every year.
Ryan, who lives with Down Syndrome, won the award after raising a phenomenal £38,000 through his cooking baking initiative.
'Ryan's Cookie Box' began in April 2015, with Ryan cooking a range baked goods every month, and raising money through an honesty box placed at the end of lane at his family home.
In the last four years, Ryan has raised thousands for a range of charities, including Age NI, Marie Curie, Pink Charity, Dementia NI, L'Arche, MSF and many more local community projects in his local area.
Speaking about his award, Ryan's Mum, Hazel said:
"Ryan has always loved helping, it's just part of him and when we started on the cookie box journey it was very much about teaching him essential life skills as well as fundraising for charity.
"Every month he raises on average £800 - £1200 for his chosen charity, which is just amazing. At present, he raised over £2,700 for his current charity, Age NI. We are so grateful to local community for their support, but most of all, we are proud of Ryan for everything that he does. He is truly deserving of this Award."
Nadine Campbell, Chair of the Institute of Fundraising NI, and Head of Fundraising , Age NI added:
"On behalf of the Institute of Fundraising NI, I'd like to congratulate Ryan on this well deserved achievement. He is a truly remarkable young man with such a passion for cooking for good. The funds he has raised have no doubt made a significant impact on the lives of many people across Northern Ireland. Well done Ryan and keep up the amazing work."
To find out more, go to: https://www.institute-of-fundraising.org.uk
Clients