Filter by Publication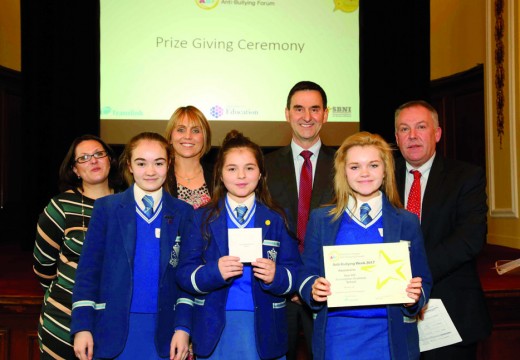 Front Row: Pictured (l-r) are Katie-Rose Kelly (12); Jenny Gibson (12) and Caoirle Starkey (14) from Assumption Grammar School, Ballynahinch.
"All Equal, All Different, All Together" was the clear message from the winners of this year's Anti-Bullying Week creative arts competition, which were announced recently at a special awards ceremony in Belfast City Hall.
The annual creative arts competition, which attracted over 2000 entries this year, has always been a significant focal point for Anti-Bullying Week.
This year's theme of "All Equal, All Different, All Together" aims to support schools and youth organisations to celebrate difference and diversity across Northern Ireland; bring children and young people together to celebrate what makes them and others unique; and help create welcoming, respectful, kind and inclusive environments both off and online for children and young people.
Anti-Bullying Week is coordinated by the Northern Ireland Anti-Bullying Forum (NIABF) and supported by Translink.
Speaking at the awards event, Rosanna Jack, Regional Anti-Bullying Coordinator, Northern Ireland Anti-Bullying Forum (NIABF), said:
"Anti-Bullying Week is an opportunity for children and young people across Northern Ireland to talk about the complexities of bullying behaviour with teachers and youth leaders, parents, carers and amongst each other. It's important that young people know how to spot bullying behaviour and know what to do should they or others experience bullying behaviours. It is by young people, parents/carers, teachers and youth leaders working together to respond and resolve bullying behaviours that we will create a safer society where young people can live free from bullying."
Ms Jack continued: "This year we were blown away by the powerful anti-bullying messages that young people created through the media of art and written word in line with this year's theme "All Equal, All Different, All Together". It demonstrates a strong commitment to anti-bullying practice across Northern Ireland and in particular showcases the inspiring work that young people are doing, with the support of schools and youth groups, to promote welcoming, respectful, accepting and kind environments for all.
"The quality of this year's work was exceptional and all young people who took part should be congratulated for the wonderful anti-bullying work they created. It is vitally important to see and hear the voice of the child within anti-bullying work. This year many of the messages from our young people aimed to support and empower other young people which is inspiring and positive for Anti-Bullying Week 2017."
Speaking at the awards event, Mr Derek Baker, Permanent Secretary for Department of Education, said:
"The Department of Education has provided a clear lead through the 'Addressing Bullying In Schools Act (NI) 2016', which will strengthen schools ability to recognise and respond to Bullying and will ensure greater consistency, so that all our pupils can enjoy the same high levels of protection in their schools".
Translink has been an active supporter of Anti-Bullying Week for the past 9 years and helps to reinforce messages by placing anti-bullying poster displays at train and bus stations across Northern Ireland. Congratulating all of the award recipients, Ursula Henderson, Translink PR Manager, said:
"Young people across Northern Ireland have shown great awareness of this serious issue and tackled it in expressive and effective ways. They've come together with a powerful united voice to say bullying behaviours should not be tolerated in any form and that everyone should be treated with respect. Translink's pleased to be able to spread this important message across the bus and rail network."
Clients