Filter by Publication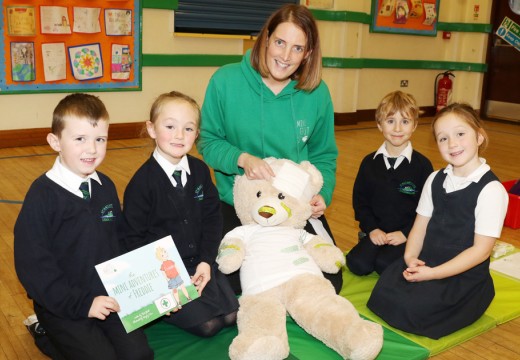 The 'mini medics' of St Macartan's. From left; Ciaran McVeigh, Eimear McAleenan, Ruth Graham (Mini Medic facilitator), Oliver Killen, Catherine Killen.
Slieve Croob District Electoral Area (DEA) recently organised a 'mini medics' programme in Christ the King, Drumaness and St Macartan's, Loughinisland.
The 'mini medics' programme was a basic introduction to first aid and defibrillation for primary school pupils from 6 to 11 years old and gave the children the opportunity to learn what to do in an emergency situation.
Not only did it teach lifesaving skills, it was an opportunity to increase their confidence dealing with unexpected situations.
Newry, Mourne and Down District Council Chairperson, Councillor Charlie Casey, said: "This 'mini medics' programme is an opportunity for our primary school children to learn skills they will be able to use forever.
"November marked the 30th anniversary of the UN Convention on the Rights of the Child—what better way to celebrate this than a programme that will empower children to help others and learn important skills."
Councillor Casey added: "Every year in Northern Ireland there are around 1,500 cardiac arrests that occur outside a hospital environment and sadly fewer than 10% of these people will survive. CPR and defibrillation skills are the two immediate interventions needed if someone suffers a cardiac arrest.
"It is hoped that young people will never be put in an emergency situation but if faced with this, they will now have the confidence and understanding of what is required to help save a life."
Clients