Filter by Publication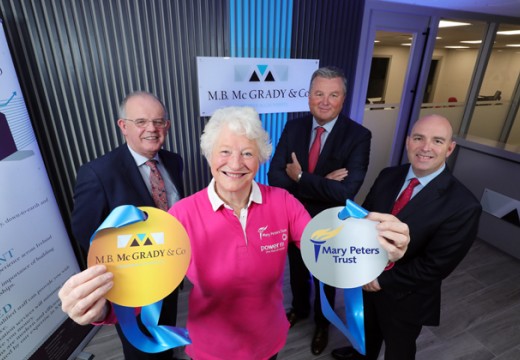 Lady Mary Peters pictured with directors at M. B. McGrady & Co Chartered Accountants; Seamus McLernon; Mal McGrady and Conaill McGrady
 Building on its support for sport, athletics in particular, accountancy firm, M. B. McGrady & Co Chartered Accountants has made a substantial donation to Northern Ireland's leading sports charity, The Mary Peters Trust.
The donation comes following a presentation at East Down Athletics Club, where Lady Mary Peters was the guest of honour and acknowledged the long-term support of the accountancy firm to not only the field of athletics, but its commitment to a vast array of community initiatives over the years.   
Mal McGrady, Director at M. B. McGrady & Co, said: "I've had the privilege of seeing The Mary Peters Trust grow over the years and indeed the real impact it has had on local athletes here in Northern Ireland.
"Helping young people, both disabled and able-bodied, achieve their sporting dreams and ambitions, the charity relies on donations though companies, organisations and individuals to give talented young people a sporting chance.
"As a local practice with three offices, in Belfast, Downpatrick and Ards, historically we have supported many athletes, sports and community groups, which is aligned to the work of The Mary Peters Trust.
"Therefore, we're honoured to be in a position to lend our support to Lady Mary's efforts and are proud to be donating to this charity which helps young people achieve their ambitions and dreams."
The company has been the main sponsor of Jimmy's 10km for over a decade, launched a charity 5km race earlier this year at Finnebrogue Estate, have championed local Olympian, Kerry O'Flaherty and for many years have supported sports team including Russell Gaelic Union's senior teams; St Patrick's G.S. senior GAA and Aquinas FC.
Clients