Filter by Publication
LOCAL CHILDREN'S CANCER CHARITY RECIPIENT OF THE QUEEN'S AWARD FOR VOLUNTARY SERVICE
October 2018 - The East Down Advertiser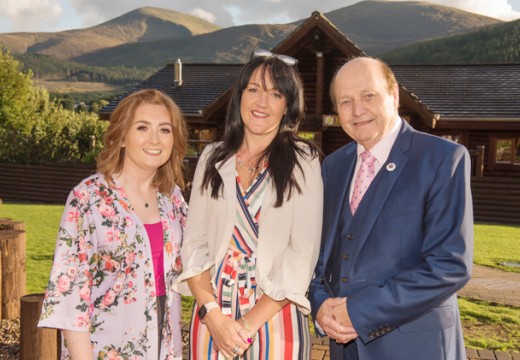 Julie Tumelty, Jaine Forsythe and Sean Wallace, volunteers who spoke during the QAVS presentation.
Cancer Fund for Children's therapeutic short break centre, Daisy Lodge, in Newcastle, was the venue on Thursday 6th September for the prestigious Queen's Award for Voluntary Service (QAVs) ceremony recognising the significant contribution of the charity's volunteers.
The local children's cancer charity has been honoured with the Queen's Award for Voluntary Service, the MBE for voluntary groups in the UK, in recognition of the impact volunteers at their therapeutic short break centre have on the lives of children and young people living with cancer and their families.
The Lord Lieutenant of County Down, Mr David Lindsay, was joined by a number of the charity's volunteers and ambassadors, as well as board members past and present, in what was a significant celebration of the contribution this group has made to families affected by cancer in Northern Ireland.
In welcoming the Lord Lieutenant, recipients and guests, Wendy McCulla Chairperson of Cancer Fund for Children said,
"I'm extremely proud that our volunteers are receiving this prestigious award in recognition of their commitment to helping families whose lives have been impacted by cancer.  Our volunteers play an essential role at Daisy Lodge by helping us create a warm, nurturing and safe environment for families which is far removed from hospital wards and treatment regimes.
"Last year alone, our team of 69 volunteers have dedicated over 4,131 hours of their time and skills; providing complementary therapies and providing beauty therapies, helping out with housekeeping duties and supporting our team of Specialists facilitate residential group work for young people living with cancer.  This is a saving to Cancer Fund for Children of over £52,000.  We quite simply would not be able to help hundreds of families every year without the commitment, energy and support of our volunteers"
Prior to presenting the Awards the Lord Lieutenant Mr Lindsay commended the recipient for their outstanding contribution to volunteering and recognised that for Cancer Fund for Children to receive one award out of a total of 250 presented nationally was a significant testament to the dedication of the charity's volunteers.
Speaking about receiving the Queens Award for Voluntary Service on behalf of the charity's volunteer's local country music producer Sean Wallace said,
"I started volunteering for Cancer Fund for Children after my daughter Emily was diagnosed with leukaemia in 2015 when she was 10 years old.  During Emily's treatment we couldn't go out as a family for risk of infection.  One of the only places we could go was Daisy Lodge.  Having short breaks there was a lifesaver for us.  We got to meet other families going through similar experiences and we have made friends for life."
"When I saw for myself the support provided to families by Cancer Fund for Children I wanted to give back by raising awareness and vital funds.  I'm a country music producer myself and decided I had to do something for my little girl and Daisy Lodge in particular.  I joined the charity's Mourne Support Group and organise concerts and help out at events whenever I can.  I think it is very fitting that the volunteers in Daisy Lodge have been recognised with the Queens Award for Voluntary Service.  I have seen myself how hard they work.  In my mind nobody deserves it more."
For more information about Cancer Fund for Children visit www.cancerfundforchildren. com
Clients