Filter by Publication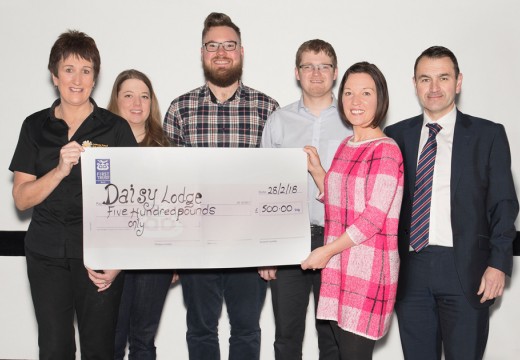 Martina Maguire, Chair and Founder of Snowball Networking Group in Newcastle, presents Maureen Flynn from Cancer Fund for Children and Ray Cunningham from MYMY, with a donation of £500 each, to mark the beginning of a year-long fundraising commitment to both charities, from the local business referral networking group. 
Snowball Networking Group, a local 'referral marketing' networking group in Newcastle Co Down, has recently selected two local charities, Cancer Fund for Children and MYMY, as their charities of the year 2018.  The group of local businesses will be taking part in various events, as well as organising some of their own, in an effort to raise much needed funds for each of the local charities throughout the year.
Chair of the networking group, Martina Maguire said "When I first set up this networking group over a year ago, I had the vision of building a strong local business network which would support small businesses through educational presentations, referral marketing to build their businesses and also a support network for the businesses, particularly those who normally work alone with no support teams. Having achieved this goal, we now want to extend our support to local charities and give something back to help the local communities and we are really looking forward to working closely with Cancer Fund for Children and MYMY over the coming year to achieve this new goal.''
Aisling Gibson from Cancer Fund for Children also added "We are delighted to welcome Snowball Networking Group as a new charity partner. The local networking group chose to support Cancer Fund for Children as their chosen charity of the year, raising funds and awareness for local children with cancer. Snowball Networking Group are wasting no time in raising funds to support our families. To launch the partnership, the group donated an incredible £500. We look forward to working with the group throughout the year".
Frances McAtamney from MYMY commented "MYMY- Mind Your Mate and Yourself is delighted to have this opportunity to work with Snowball Marketing Solutions and to be able to avail of the expertise within the Network to further promote good mental health and physical wellbeing within our local community. We would like to thank the members of the group for their very generous donation of £500.00 and for selecting MYMY as one of the charitable beneficiaries for this year, we look forward to a very worthwhile and productive partnership over the upcoming months".
For more information about this local networking group you can contact martina@snowballsolutions.co.uk
Clients