Filter by Publication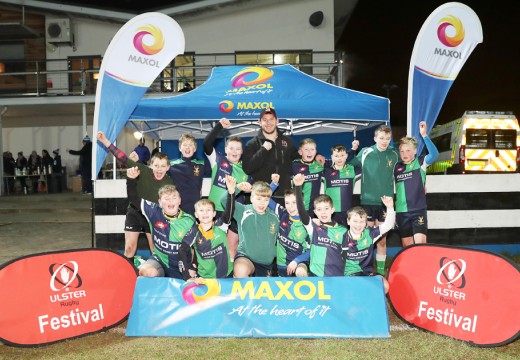 Ulster Rugby stars Tommy O'Hagan and Marcell Coetzee attended Maxol Mini Rugby Festival.
Ulster Rugby stars Tommy O'Hagan and Marcell Coetzee recently attended the Maxol Mini Rugby Festival hosted by CIYMS RFC where over 100 young rugby players aged 12 and under took part in a series of exciting matches. Some local mini rugby teams from Ballynahinch were involved.
The Ulster Players spent time at the festival signing autographs, posing for photographs and talking tactics with the next generation of rugby talent.
Maxol, Ireland's leading family owned forecourt and convenience retailer is the title sponsor of the Ulster Mini Rugby programme which attracts thousands of young players each year. Those taking part have the opportunity to enjoy the festival atmosphere, compete with their peers to develop their rugby skills and to meet their Ulster Rugby heroes.
Kevin Paterson, NI Retail Manager for Maxol said, "We are delighted to see so many young people from across Northern Ireland taking part in the Maxol Mini Rugby Festivals. We have sponsored this initiative for 6 years and are committed to encouraging young people to stay active and to get involved in sporting activities. The Maxol Mini Rugby Festivals is a great way for us to get young people involved in sport and for our retailers to support the local community."
For nearly a century, Maxol has been at the heart of local life in Northern Ireland, whether that's through providing fuel, goods and services for people's everyday needs or supporting local community initiatives. Maxol first supported the Ulster Mini Rugby programme in 2013 and is delighted to continue the sponsorship as part of its ongoing investment in local sport and communities in Northern Ireland.
To find out more about the Maxol Mini Rugby Festivals, visit www.maxol.com or www.ulsterrugby.com.
Clients