Filter by Publication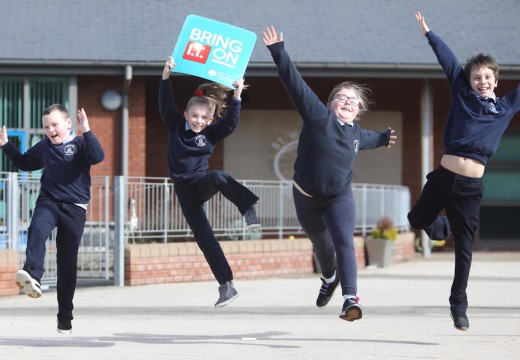 St Marys Newcastle pupils Laura Brown, Bella Denvir, Toby Crothers and Tommy Hughes who took part in the Bring IT On Roadshow.
Belfast Met along with Sentinus is rolling out the Bring IT On roadshow to local post-primary schools, encouraging students to consider a career in IT.
The Department for the Economy funded programme visited students in Newry and Newcastle recently. The aim of Bring IT On is to inform young people about the many career pathways into the IT sector via a series of interactive sessions and demos at their schools.
Director of Curriculum at Belfast Met, Dr Jonathan Heggarty said: "As the designated Further Education Curriculum Hub for Digital IT, Belfast Met is thrilled to be delivering the Bring IT On roadshow again this year in partnership with Sentinus. It is great to be able to communicate the many benefits of a career in this industry to post primary school learners to inform their study and future decision making. In answer to the ongoing skills demand for people trained in IT related disciplines, Belfast Met offers a wide range of courses that can lead to various career paths including cyber security, software development, computer game design and networking. Each course is taught by highly skilled lecturers with real industry skills and experience, which forms an important part of the knowledge delivered to students."
Sentinus CEO, Bill Connor, said: "The IT sector in Northern Ireland continues to grow and offers great opportunities for young people in a wide range of areas, while IT systems and infrastructure are also a critical element for employers across other sectors.  It is crucial that young people are fully aware of the potential for career progression within the area to help them make informed decisions about future education and career pathways.  Bring IT On roadshows give us the perfect opportunity to bring up to date information into the classroom and provide a perfect complement to practical activities which Sentinus delivers in schools, focusing on development of programming skills."
For more information on the Bring IT On programme and range of IT courses available at Belfast Met visit belfastmet.ac.uk, www.bringitonni.co.uk sentinus.co.uk or email bringiton@belfastmet.ac.uk.
Bring IT On is also on social media:
Twitter @BringITOnNI
Facebook – Bring IT On NI
Clients