Filter by Publication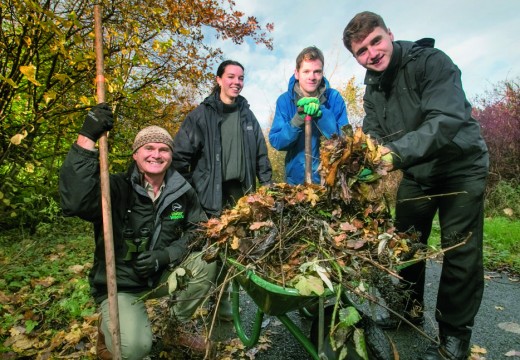 Simon King, TV Wildlife Presenter, met young nature champions Peter Clarke, Louisa Williams and Bradley McCracken who were honoured with an Ulster Wildlife Grassroots Challenge Award, at W5 recently, for their efforts to improve the Comber Greenway for wildlife and visitors.
Young people's outstanding efforts in championing wildlife across Northern Ireland were recognised at the inaugural Grassroots Challenge Awards recently, in W5, hosted by TV wildlife presenter and naturalist Simon King.
Over the last year, 2000 young people, aged 11 to 24, from Young Farmers' Clubs, Duke of Edinburgh's Award groups and special schools rolled up their sleeves to carry out 150 projects to help nature thrive in their local area, as part of the Grassroots Challenge project, led by Ulster Wildlife.
From making homes for birds and hedgehogs, to planting trees and transforming local spaces into vital wildlife havens, the young people have unleashed their passion, creativity and potential to achieve amazing things for wildlife and people.
Bradley McCracken, aged 16, from Belfast, was one of eight inspirational young people presented with a Young Environmental Leader Award. Bradley was instrumental in helping to look after and improve a section of the Comber Greenway, as part of his Duke of Edinburgh's Award. Along with other young people, Bradley volunteered his time to clear back overgrown vegetation, tidy path edges and survey wildlife, with support from Sustrans. He also helped to apply for funding for a wildlife enhancement project.
He said: "I'm extremely flattered and encouraged to have won this award, which I feel recognises the work carried out by the entire team, most notably their commitment and enthusiasm for this project.
"Growing up, I was a frequent user of the Comber Greenway on family outings and walking to and from school. To have the opportunity to assist in its upkeep and preservation has not only been extremely enjoyable, but invaluable and has provided me with an insight into the 'behind the scenes' work involved."
Bradley, along with Louisa Williams, Peter Clarke and Matthew Sergeant from Comber Greenway Duke of Edinburgh Volunteers, also scooped an award for their collective efforts.
Group awards were also presented to Mourne Young Farmers' Club for getting hands-on with practical conservation in the Mourne Mountains and to St Gerards School, Belfast, who swapped their pencils for spades and turned their outside space into a wildlife sanctuary.
Simon King, passionate conservationist and President Emeritus of The Wildlife Trusts, congratulated the winners on their achievements.
He said: "I am genuinely inspired by all the fantastic work young people have done for wildlife through the Grassroots Challenge. At a time when young people are becoming increasingly disconnected with nature, it is heartening to see so many getting out there, having fun and changing things for the better. Young people are our future, so initiatives which support them to develop skills and widen their appreciation of the natural world around them are a very wise investment."
Speaking at the event, young Fermanagh naturalist and conservationist, Dara McAnulty, aged 13, who has set up his own nature blog, said: "As a young naturalist, it can be a bit isolating, but being in a room filled with people who were actively helping nature and wildlife was truly inspirational and gave me hope that my generation will continue to do great things - helping local biodiversity and conservation awareness."
Alexey Janes, Grassroots Project Coordinator with Ulster Wildlife added: "A huge well done to everyone - they should be so proud of themselves. Helping young people experience nature and make a difference to their environment is a big part of our work. We have made a great start during this first full year of the Grassroots Challenge and we are excited to see what else young people will achieve for themselves and for wildlife in the years ahead."
The Grassroots Challenge will see over 5,000 young people skilled-up to lead wildlife projects in their local communities by 2020. Young people are also given the opportunity to complete an accredited LANTRA environmental qualification, sign up for the Eco-Club programme run by Keep Northern Ireland Beautiful and participate in democracy education sessions at Stormont with Northern Ireland Environment Link.
The Grassroots Challenge is part of Our Bright Future, a programme of 31 projects across the UK co-ordinated by the Wildlife Trusts and funded by the Big Lottery Fund.  Each project aims to help young people step up and create what is rightfully theirs: a thriving economy, a healthy planet, and a better future.
Find out more at www.ulsterwildlife.org/grassroots
Clients