Filter by Publication
Spooktacular Events Throughout The Ards Borough This Halloween
October 2018 - The Ards Advertiser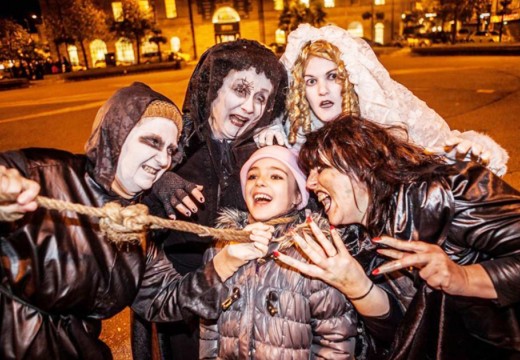 Last year saw many costumed trick or treaters in fancy dress who were out and about in Ards.
Murder Mystery "Spirit of Place"
Mount Stewart, 26 and 27 October.
The year is 1967, Lady Constance is throwing a Halloween Happening, a little party never killed anyone... Or did it? After an aperitif in the Entrance Hall of the Mansion House, guests will be asked to meet the suspects in the various rooms of Mount Stewart. Detectives will then enjoy a hot fork supper buffet whilst deliberating over the evidence, before it is revealed who the murderer really is!
For More information, visit https://www.nationaltrust.org.uk/events/4db05b75-caab-4e18-92cd-4eacd7891bf5/pages/details
Halloween at Castle Espie Wetland Centre
Sat 27 - Wed 31 October
There's plenty of frightful fun for you to discover this Halloween at Castle Espie. Hop on your broomstick this Halloween and experience the incredible journey Brent Geese make from the Arctic to Castle Espie, with Broomstick Flight Training (booking required). New for 2018, you'll need to watch need to watch out for predators during this interactive migration course – land safely and you'll get to take your own broomstick pilot license home with you.
 You can also experience the spookier side of wetland wildlife, with our NEW Beastly Bat trail. Are you brave enough to see what's lurking inside each box? Plus, face painters, snakes courtesy of Karl Mantella's roadshow, new pumpkin games and spooky stories in the Crannog! Full programme:
For bookings contact: info.castleespie@wwt.org.uk or call 028 9187 4146
SPOOKY HALLOWEEN DOWN ON THE FARM.
Our Halloween event consists of Witches stories (last stories 3pm) - Creepy Crawly Loft - Spooky train ride - Scary Carnival games - Spider Buns and blood juice - Scary costume competition - Silver pony rides for under 5s - Much much more! ADULTS £5.50  CHILDREN £8.00 Children's price includes all of above apart from a pony ride as this is weather dependant.
More information can be viewed at http://www.thearkopenfarm.co.uk 
Clients