Filter by Publication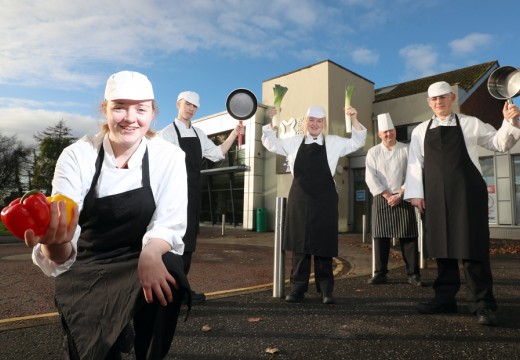 Bangor Campus NVQ Level 3 Professional Cookery students Jack Rossbotham (Bangor), Sam McGorman (Newtownards) and Cameron Barclay (Donaghadee) with Ken Scott , Bangor Foodbank & Community Support and Mayor of Ards and North Down, Councillor Trevor Cummings.
Hospitality and Catering students at South Eastern Regional College's (SERC) Bangor and Newtownards Campuses are continuing to learn about the industry by making meals to support Bangor Food Bank & Community Support and Newtownards Food Bank by preparing Christmas dinners and festive treats for people in the run up to Christmas as part of their project based learning.
Paul Mercer, Deputy Head of Hospitality and Catering at the College said, "Throughout the year, our hospitality and catering students gain valuable experience and skills to complement their studies through the College's cafes and restaurants and through working in local cafes, restaurants and hotels, both in the kitchen and front of house.  This year, things are very different for everyone, but it is still vitally important for our students to continue to gain as much experience as possible in seasonal food preparation and customer service, so we are harnessing all that learning for the good of the community and people in need by working with the food banks to supply over 1000 Christmas meals and festive treats for children.
He added, "Hospitality and catering students will be making Christmas dinners, which will be chilled and ready to reheat at home along with over 300 packs of marshmallow snowmen and gingerbread reindeers for children.   Not only will they be making the food, but they will be distributing the food through local food banks in Bangor and Newtownards."
Mayor of Ards & North Down Borough Council, Councillor Trevor Cummings, who has chosen Bangor Food Bank and Community Support and Newtownards Food Bank amongst his chosen charities this year said, "One of the most positive things that I have seen this year is the fantastic community spirit taking place across the borough to help those people that need it most."
Ken Scott, Bangor Foodbank and Community Support said, "This is a prime example of organisations coming together to help those in need in the community.   We are delighted with the support of the College and of course the young people."
Visit www.serc.ac.uk to find out how you could be #BetterOffAtSERC #OnlineAndOpenForBusiness Find us on Facebook, search SERC. 
Clients