Filter by Publication
Qualifications and Training Success for People with Learning Difficulties and Learning Disabilities
May 2018 - The Ards Advertiser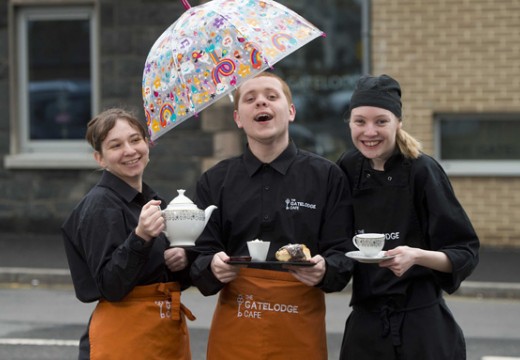 Pictured at The Gatelodge Cafe on Church street Newtownards are staff members Dominika Dressler, Jordan May and Rebecca Lowe
People with learning difficulties and learning disabilities are excelling in training, qualifications and employment through specialist support from leading training and employment organisation Stepping Stones NI.
The multi-award winning charity has been supporting people who experience barriers to employment for over twenty years.  Their training and employment service offers tailored support for clients who want to develop new skills, gain qualifications and secure paid employment.
Dominika Dressler (pictured above left) has been supported to complete a Level 1 NVQ in Food & Beverage Service and is now moving on to the Level 2 qualification.  Dominika (27) who has cerebral palsy and a learning difficulty wanted to improve her opportunities to achieve paid employment.  She registered with the service to gain new skills and qualifications, and comments on her experience "I have learned so much and gained lots of confidence.  The staff are so supportive and encouraging and the training is really useful and interesting. I now have a long list of training and qualifications to add to my CV".
Dominika is also undertaking a work placement at Stepping Stones NI's social enterprise café, The Gatelodge, on Church Street in Ards and says "I love working at The Gatelodge, I am getting real life work experience in hospitality.  I am also barista trained and enjoy making specialist coffees for customers.  I would encourage anyone with a learning difficulty to contact Stepping Stones NI, the support is so good I don't want it to end!"
Trainer Jacqueline McConville has supported Dominika over the last year to develop and says "Dominika gives 100% and can complete all the tasks that are given to her independently and she is an asset to any employer.  Customers and staff at our social enterprise, The Gatelodge Café, are delighted with her work while on placement and we hope that her achievements will inspire other people to contact us for support".
Dominika is one of many success stories for Stepping Stones NI.  Employers in Ards and surrounding areas are engaging with the charity to offer placements and paid employment to clients as they see the value in taking on their clients to the business. Employment support can be focused across a wide range of industries.  People interested in support should contact Claire Humphreys on 028 92 666 404 or email support@stepping-stones.org.uk to find out about options suitable for them. 
The Stepping Stones NI team provide specialist support to people with a range of barriers to learning and employment including people with Autism, ADHD and Dyslexia.
Stepping Stones NI is part funded though the Northern Ireland European Social Fund Programme 2014 – 2020 and the Department for the Economy. 
Clients