Filter by Publication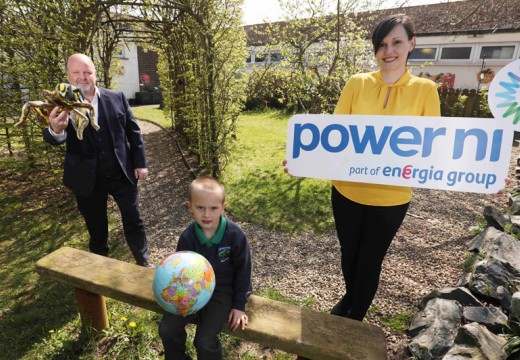 Emma (right) is pictured with son Jesse and school principal, Mr Greer (left).
Comber lady Emma McKeag has secured a £500 technology grant for Moneyrea Primary School where her son Jesse is a P1 pupil.
Emma works for Power NI and the energy company has rolled out a £25K #MorePowerfulTogether employee initiative enabling 50 schools and nurseries throughout Northern Ireland to each receive £500 via a community focused Staff Fund initiative.
Staff were asked to nominate a school or nursery in their locality who they felt would really benefit from cash support to help the teachers, pupils and their families purchase devices, data and connectivity.
Emma says, "Having staff programmes like this available to us is just amazing.
"I love being able to give something back to school, especially in current times, as they are 100 % dedicated to our children and have gone above and beyond when faced with the difficulties of Covid.
"This funding has gone straight into the school to purchase materials for the children to help them with their daily learning."
Gwyneth Compston continues, "Digital access was a huge problem before the COVID pandemic struck, but the past year has really brought it to the fore. We'd like to thank Emma and all our staff for their nominations as they are very much appreciated. With most people currently working from home the initiative has really brought us all together with a common goal.
"We hope this contribution from Power NI and its staff will go some way to helping more children achieve their potential and go forward confidently and competently into the future world."
Power NI provides 55% of the domestic market's electricity needs and 54% of the commercial market.  Power NI, a local supplier for almost 90 years, supports an extensive range of local community, environmental and sporting initiatives including Volunteer Week, The Mary Peters Trust and Age NI.
Power NI has given over £120k to around 70 charity partners and community groups and 50 schools across NI to help customers who have been impacted financially or otherwise by Covid-19.
Clients