Filter by Publication
International School Award for Kircubbin Integrated Primary School
March 2020 - The Ards Advertiser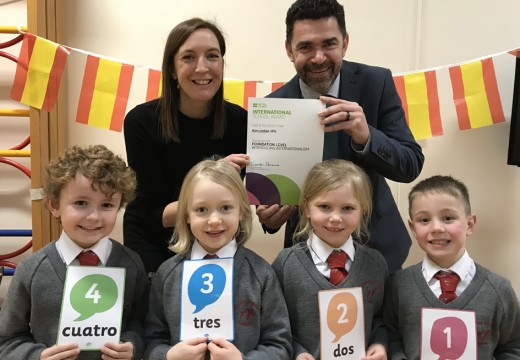 P2 pupils at Kircubbin Integrated Primary School celebrate achieving Foundation Level in the International School Award along with International Schools and Spanish Language Coordinator Laura Doherty and Principal Roger Irvine.
As an integrated school, Kircubbin Integrated Primary promotes the four key principles of integrated education, namely – equality and diversity, faith and values, parental involvement and social responsibility. 
As part of their commitment to teaching about equality and diversity the school has been successful in applying to receive the International School Award Foundation Level.  In addition to teaching the children about the various traditions and cultures within society Kircubbin Integrated PS believes it is just as important that they learn about diversity through studying other countries. 
The school was therefore delighted to be awarded our Foundation Level of the International School Award in recognition of the work they are already doing.  School Principal Roger Irvine said:
"At KIPS we believe that pupils should have the opportunity to learn an additional language from early years.   We currently have a Spanish language programme running from P2 – P7 and we are delighted to be able to develop this programme further through a language partnership with Regent House Grammar School. 
Our children love to learn Spanish through songs, number work and lots of conversational practice.  Further to this, the children have been learning about Spanish traditions, food and culture.  Our P6 and 7 pupils have been working on iPads to create Spanish books that are then shared with younger pupils through our reading partnership programme.   As well as the obvious linguistics benefits, providing our pupils with a good foundation in a modern foreign language, it also gives them increased confidence as they move on to post-primary education;  helping them in what can sometimes be an anxious transition process. 
We are especially grateful to Mrs Doherty, our Spanish and International School's Coordinator for all the hard work she has done to date. 
We are now working towards the Intermediate Level of the award and are excited about the possibilities that may come through potentially partnering with a school in Spain.  We are determined to put Kircubbin firmly on the European map (even if it is post-Brexit!)!   Adios amigos!"
Clients