Filter by Publication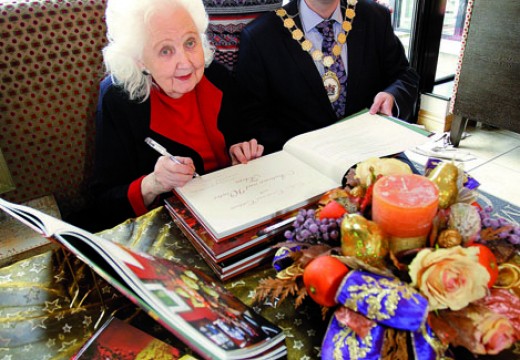 Sandra is pictured signing a copy of her book for Councillor Robert Adair, Mayor of Ards & North Down Borough Council, watched by green-fingered Helen Harrison of Harrison's of Greyabbey.
At a time of life when most people are content to kick back and relax, one woman is celebrating her 79th birthday this month with the publication of her first book … and her celebrations have brought her to right into the heart of County Down.
Sandra Carson has poured a lifetime's passion for flower arranging into the creation of a lavishly illustrated hard back volume entitled, 'Collect, Create and Celebrate with Autumn and Winter Flora' … and, as much of her inspiration is drawn from walks and plant collecting expeditions in and around the Ards Peninsula, she chose Harrison's of Greyabbey for a launch signing.
The determined septuagenarian who lives in County Antrim is eager to share her pleasure in flower arranging with others and has packed her book with tips, advice and encouragement designed to sharpen skills and encourage people to abandon cramming flowers in a jam jar in favour of something more ambitious and altogether more artistic. Sandra also wants to inspire people to get closer to nature, benefitting their physical and mental wellbeing …and where better to start than right here, in one of Sandra's favourite, flora-abundant corners of the country?
Formally launching the book at Harrison's, she said, "A quick look around this wonderful garden centre and a chat with customers shows just  how local people love their gardens, yet many people hesitate to try their hand at flower arranging, thinking they lack the expertise or the artistic eye.
"Whether your personal style is relaxed or formal, flower arranging is a creative outlet which provides an opportunity for everyone to connect with nature and to bring some of its rich harvests into our homes.  It is also a wonderful 'mindfulness' activity and I know, from my own experience over the years, that flower arranging has brought me countless unpredicted, golden opportunities for diversification and fulfilment in new experiences and enterprises on retirement; more recently it has bestowed peace and harmony, after some of life's inevitable 'slings and arrows'."
Retired teacher Sandra was a founder Chairman and is Honorary Life Member of the Northern Ireland Group of Flower Arranging Societies' Judges, Demonstrators, Speakers & Education Committee and she is enthusiastic about the high standards which prevail here.   However she says that, while joining a class or flower arranging group is a great way to gain, and share, skills, anyone can 'have a go', particularly if they arm themselves with her new publication.
She says, "My book is packed with all sorts of tips gathered over the years, illustrating how even quite humble plants and containers can be transformed with a little artistry and patience and often very little or no expense.  The photos and illustrations reflect the variety of projects which can be undertaken around the home, from modestly scaled, quick-to-do arrangements to more ambitions celebration centrepieces.  I hope that readers will enjoy the imagery, but I wouldn't for a moment suggest that would-be arrangers should copy them slavishly, for they are meant as a springboard for inspiration."
Sandra is quick to correct those who may think they will have to wait until Spring to develop an interest in flower arranging. She says, "This is very much a year-round hobby and searching for interesting foliage, seed heads and other plant material can certainly add interest and purpose to a brisk winter walk, particularly around the shores of the glorious Strangford Peninsula!  It is really quite easy to dry, press and preserve plants to build up a collection with which to experiment and create different effects and, of course, there are some wonderful silk flowers available in the shops now. 
"In Winter, when we are more likely to be confined indoors, it is lovely to be able to bring some of the outside in and, as Christmas approaches, arrangements and festive wreaths can make thoughtful gifts as well as stunning centrepieces for the seasonal table.  They all seem so much more special when you have made them yourself and – who knows? – you may even receive some flowers at Christmas to encourage you to do still more!!"
Signed copies of Sandra Carson's book, which may well find itself on many 2017 Christmas lists, are available now from outlets across Northern Ireland including Mid Ulster Garden Centre, Maghera, and sourced through Harrison's of Greyabbey, priced at £30.
Clients