Filter by Publication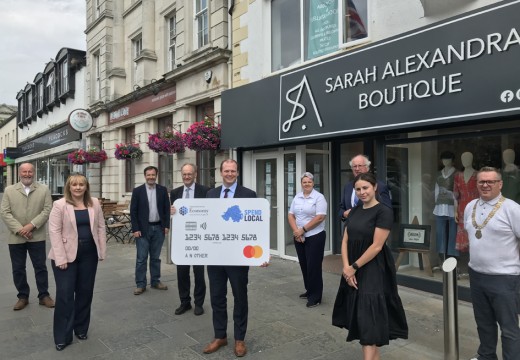 Ards Chamber of Trade were delighted to welcome the Economy Minister Gordon Lyons to Newtownards recently to highlight the launch of the £100 High Street Voucher Scheme also pictured are DUP representatives and MLA Peter Weir.
Ards and Comber Chambers of Commerce have launched their campaign to encourage local people to spend the £100 Voucher High Street Scheme worth £100. Following the difficult time that many businesses have suffered throughout the pandemic, the scheme is designed to stimulate local businesses, including retail and hospitality.
Every person in Northern Ireland aged 18 and over will be eligible to apply for a pre-paid card through a dedicated online portal, which is expected to open for registration on NI Direct website https://www.nidirect.gov.uk/ by mid-September. The pre-paid card can only be used in local businesses in Northern Ireland and cannot be used to purchase goods online.
NIs high street voucher scheme, open to every adult in Northern Ireland, opens in September with applications checked against the latest electoral register. The idea is to support retailers that have been badly affected by the Covid-19 lockdowns.
Autumn has been chosen for the roll-out as is thought to be the best time to stimulate more spending in town and city centres.
It is thought that up to 1.4 million people over the age of 18 will benefit from an extra £100 to spend on their high streets through the scheme.
It is anticipated that the Voucher scheme should provide a welcome pre Christmas boost to local retail, hospitality and other sectors in Ards, Comber and throughout Northern Ireland.
Clients