Filter by Publication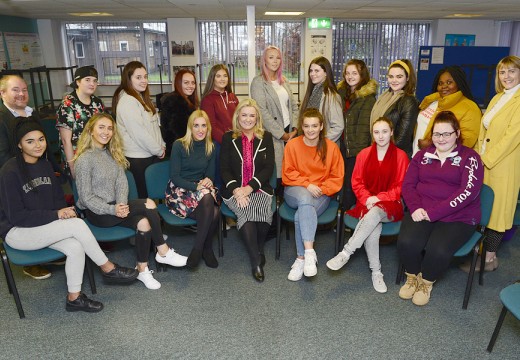 Former MLA Jo-Anne Dobson (centre) recently visited South Eastern Regional College's Newtownards Campus to speak to Health and Social care students about her awe inspiring story as an organ donor and the life changing effects organ donation can have.
Health and Social care students from South Eastern Regional College (SERC) Newtownards Campus recently welcomed former MLA Jo-Anne Dobson from Kidney Care UK and recent organ donor to deliver a talk about the life changing effects organ donation can have.
Kidney Care UK are the UK's leading kidney patient support charity providing practical, financial and emotional support for kidney patients and their families and campaigning to improve care services across the UK.
A former MLA for Upper Bann, Jo-Anne has heavily campaigned to change the existing organ donation laws in NI. After leaving politics in 2017, Jo-Anne took up the role as NI Charity Ambassador for Kidney Care UK in February 2018.
During her visit to SERC, Jo-Anne alongside political advisor Andrew Cromwell, spoke to students about her own personal experiences as an organ donor as well as well as the current state of organ donation in Northern Ireland.
Jo-Anne told her heart-breaking story of how at just five weeks old, her son Mark was diagnosed with Renal Reflux which meant one of his kidney's had unfortunately been lost and the other was reduced to just 19% function. In 2009 he underwent surgery to receive a donated kidney at the Royal Belfast Hospital for Sick Children. Unfortunately, the transplanted kidney began to shut down in 2017 and needed to be removed.
After beginning tests to become a living donor, Jo-Anne underwent transplant surgery in March 2018 - donating a kidney to her son. After a successful surgery, Jo-Anne asked the nurses to see her son in recovery. Upon seeing her son, Jo-Anne simply said to him "We did it."
Andrew also spoke to students about the current situation of organ donation in NI explaining that during 2016, the NI Assembly decided not to proceed with any changes to the basis of consent for organ donation. Meaning that NI is the only state in the UK to still use the 'opt in' approach which requires a person to register for organ donation.
It is expected that the rest of the UK will be moving to the 'opt out' approach which means that everybody can be considered a potential organ donor unless they have added their details to the NHS Organ Donor Register to say that they do not wish to donate their organs.
Jo-Anne and Andrew were then given a tour of the campus as well as a preview of the new clinical suit currently under construction at the Campus which is set to open early next year.
Speaking about her visit Jo-Anne said she had "a fabulous time. The students were clued up on their studies which made a super question and answer session. I would like to send them best wishes as they finish their coursework and thank them for their interest."
SERC Lecturer from the School of Health, Early Years and Adult Education Nikki Rainey said "Jo-Anne's story is truly awe inspiring and really shows her commitment not just as a parent to her son but to her campaign to change the laws surrounding the organ donation. I thank her for taking time out of her busy schedule to come to speak the next generation of health care professionals.
SERC provides a wide range of full and part time courses.  Visit us at our Full-time Open Day on Wednesday 6 March from 2pm – 8pm at our Bangor, Downpatrick, Lisburn and Newtownards campuses.  For more information or to apply please visit www.serc.ac.uk, call 0345 600 7555 or find us on Facebook, search: SERC.
To find out more or to register as an organ donor please visit www.organdonation.nhs.uk/register-to-donate.
Clients