Filter by Publication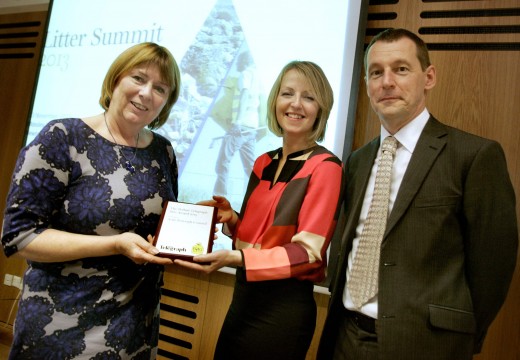 Councillor Deborah Girvan accepts the Tidy Northern Ireland Belfast Telegraph BIG Award on behalf of Ards Borough Council. She is pictured with with Karen Patterson and Dr Ian Humphreys, Chief Executive, Tidy Northern Ireland.
Ards Borough Council has won a 'BIG' award for its support for the annual Tidy Northern Ireland spring clean.
The Council became the holder of the Tidy Northern Ireland 'The Belfast Telegraph BIG Award' in recognition of its work to encourage and support ten groups across Ards to organise clean-ups during the April 2013 campaign.
Mayor of Ards, Councillor Stephen McIlveen, paid tribute to the communities involved:
"As a Council we were delighted to be able to provide the equipment and to collect the rubbish at the end, but the communities themselves provided the people, enthusiasm and commitment to help improve the appearance of their own areas. This award is really for them".
Councillor Deborah Girvan, who nominated the Council, said:
"I was impressed not only by the number of groups that Ards Council had supported in the Borough for the Big Spring Clean, including the one I organised in Comber, but also the polite and courteous way that staff in the Council responded to my request for help.
"In recognition of their good work, I submitted a nomination which highlighted the exceptional commitment that the Council staff had given to the Tidy NI campaign. I was delighted and proud when Dr Ian Humphreys, Chief Executive of Tidy NI, announced that Ards Borough Council was one of the winners of the Cleaner Neighbourhood Awards at their annual Litter Summit conference which I attended recently.
"I would like to take this opportunity to thank everybody who took part in all the litter picks which were held throughout the Borough as without their support and effort we would not have won this prestigious award. I would encourage more groups to get involved in the BIG Spring Clean in April 2014 as the more people take part, the more it sends a strong message to litter louts to stop dropping rubbish on our streets, roads, and public parks".
The groups which participated in the BIG Spring Clean were Kircubbin Guides and Brownies, Greyabbey Guides and Brownies, Comber Guides and Brownies, Donaghadee Primary School, Ballywalter Community Group, Portavogie Action Group, Glastry College, Donaghadee Rotary Club, Castle Gardens Primary School and Comber Clean Up.
According to Tidy NI,  almost £40,000,000 is spent every year  keeping  the streets clean in Northern Ireland because people drop litter at their feet, throw rubbish out of car windows and dump unwanted waste and goods at the sides of roads. If any groups are interested in taking part in the next BIG Spring Clean, they can register their support on www.bigspringcleanni.org . For Council support, contact the Borough Inspector's Office on  028 9182 4005.
Clients