Filter by Publication
Ards Blair Mayne Wellbeing and Leisure Complex Wins Prestige Access Award
February 2020 - The Ards Advertiser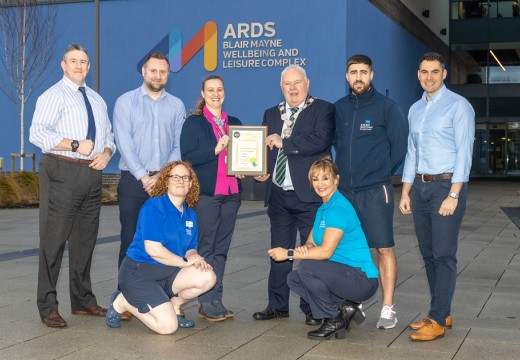 Photo Caption - Back row: Sean Fegan (Operations Manager), Chris Black (Assistant Marketing Manager), Annet McGowan (Operations Officer), Mayor Bill Keery, Anton Cozzo (Assistant Manager), David Gibson (Leisure and Fitness). Front: Diane Bunting (Swim Coach) and Gillian Bradley (Membership Services Advisor). Image: Colin Maxwell.
Ards Blair Mayne Wellbeing and Leisure Complex has secured a Prestige Access Award from the William Keown Trust in recognition of the centre's facilities for those with disabilities.
The William Keown Trust strives to improve accessibility for less able-bodied people to the built and open environment across Northern Ireland and the Award celebrates the innovation and foresight of those involved in making these areas accessible to all.
The Mayor of Ards and North Down, Alderman Bill Keery, said: "I'm delighted that Ards Blair Mayne Wellbeing and Leisure Complex has been recognised with a Prestige Access Award by the William Keown Trust. Throughout the building's design process, we wanted to make sure that everyone would be able to easily access and use the state-of-the-art facilities. As a result, the Complex was constructed to provide a high level of accessibility for people with disabilities. It's a valuable addition to our increasing number of inclusive facilities in the borough."
"The Complex has continued to innovate since its opening in January 2019 with many services devised to cater for everyone. During the summer months, staff organised pan-disability summer schemes and children were able to make the most of the facilities including the swimming pool where a pool hoist is available. Ards Blair Mayne Wellbeing and Leisure Complex and its staff are a real credit to Ards and North Down."
For more information about the Complex, visit leisureardsandnorthdown.com.
Clients