Filter by Publication
Ards and North Down's Beach Clean Boards Are Pick of the Litter!
June 2019 - The Ards Advertiser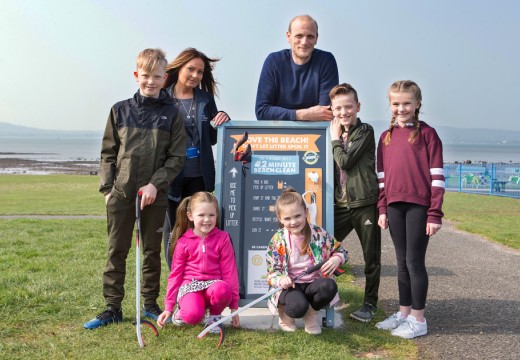 Ards and North Down Borough Council's Athena Bennett (Community Safety Officer) and Stephen Addy (Head of Regulatory Services) with litter pickers (L-R) William Addy, Amy Stevenson, Katie Stevenson, Max Addy and Anna Stevenson.
Did you know there are around 700 pieces of plastic located on every 100 metres of Northern Ireland's beaches? It's a shocking statistic but Ards and North Down Borough Council has introduced another new initiative to help put a lid on the Borough's waste.

Thanks to savings made from the recycling efforts of local residents and businesses, the Council is in the process of introducing eight new Beach Clean Boards through the Recycling Community Investment Fund (RCIF).

Each Beach Board will provide bags and a litterpicker that can be used to collect rubbish, enabling the local community to pick up small amounts during their walk which they can dispose of using the bin next to the Beach Board.

It's a quick, easy and fun way in which multiple volunteers can contribute to removing litter from our coastline. By coming together as a community, everyone can assist in keeping our beautiful beaches free from waste and make our Borough an even better place to live.

"It costs half as much to recycle waste compared to the cost of sending it to landfill so the savings made as a result of our community's recycling efforts have enabled the Council to fund a range of new recycling projects such as the Beach Clean Boards," said Stephen Addy, Head of Regulatory Services.

"The Council is providing many opportunities to make it easy to recycle waste and it really does make a huge difference. With everyone working together, we can clean up our Borough so I'd encourage all residents and businesses to keep up the great recycling work!"

The first Beach Board has been unveiled at Seapark in Holywood with more to follow.  Plastic can harm wildlife, ruin our natural environment and can enter our food chain so this is a great community initiative that allows everyone to 'do their bit' in helping to keep our Borough clean.
Clients