Filter by Publication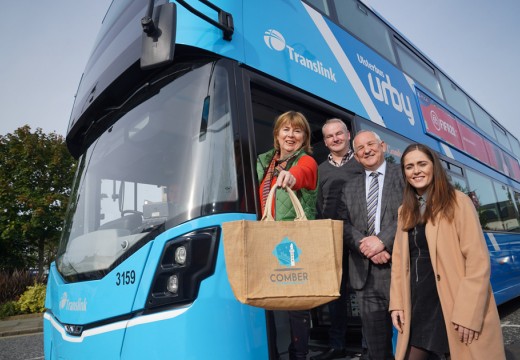 (l-r) - Ald. Deborah Girvan, Chairperson, Comber Farmers' Market; Richard Moore, Comber Farmers' Market; Arthur Hamilton, Bus Services Southern Area Manager, Translink; and Emma Whyte, Assistant Service Delivery Manager, Translink.
Translink's popular new Urby bus service has been extended to operate from Comber, Ballygowan and Moneyreagh to Belfast.
Seven modern new Urby vehicles are now operating a majority of services along the existing 11 and 12 Ulsterbus corridors. Services operate with a frequency of at least every half hour during peak commuting times, taking advantage of the bus priority measures in the city and giving plenty of choice to those who want to sit back and relax on board.  New passenger information signs, including bus stop flags, are displayed along the new Urby routes.
The introduction of the new vehicles also provides enhanced opportunities for those travelling to and from Comber for the monthly farmers' market on the first Thursday of every month, helping to boost the local retail sector and support local town centres.
Translink Bus Services Southern Area Manager Arthur Hamilton, said: "Urby is proving very popular with our customers who are enjoying faster and more comfortable journeys, with leather seating, free wi-fi and usb charging ports, on environmentally friendly buses.
"Thousands of additional passengers have made Urby their first choice for travel. Areas such as Newtownards, Carryduff and Balllyclare have seen particularly strong growth and we look forward to welcoming more customers on board as we further develop our services".
"We believe people are becoming 'smarter' travellers, looking for ways to get more 'me time', and Urby is one way that gives them that and more.  We are also delighted to be supported in this enhancement by the organising committee of the award-winning Comber Farmers' Market, and we hope that growing numbers of visitors will avail of Urby services to travel to this monthly event, helping to support local producers and retailers.''
Alderman Deborah Girvan, Chairperson of Comber Farmers' Market, said: "As the popularity of the market increases, it is becoming more and more difficult to get parked in and around Comber town centre.  By taking the bus to Comber, visitors can get dropped off almost outside the market, at the local parish church on the Square on the first Thursday of the month.  We have noticed an increase in the number of people from Newtownards and Bangor who find this mode of travel more convenient.  I am sure that the comfortable new Urby bus will prove just as popular with our neighbours from Ballygowan, Belfast, Dundonald and Moneyreagh."
Clients